The design industry has never had so many online tools at its disposal. From stunning image libraries to trendy icons and illustrations, innovative platforms are helping designers to be more creative than ever before.
Yet at the same time, client expectations are changing. Freelancers and agencies are getting tasked with producing better results in half the time. Finding solutions that meet this challenge can be hard, but we're here to help.
We've rounded up some of the best online resources that can assist in delivering world-class projects - at speed. We've also included a couple of training and community resources, as staying ahead in this rapidly-changing industry can really set you apart.
Top online resources for designers
1. Iconfinder
As the world's largest marketplace for icons and illustrations, Iconfinder has 5 million+ creative designs to choose from. Its huge library is made up of submissions from designers around the world, which are then vetted to make sure they meet the relevant standards.
Every icon comes in PNG or SVG format, meaning they'll look good across all devices and browsers. Ready for commercial use, they can be customized by changing color or adding text - ready to fit in with your brand's style and tone.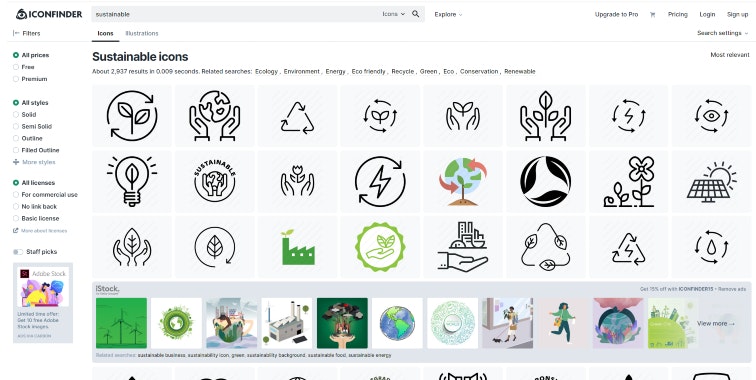 2. Memorisely
Become a UX/UI designer in weeks with Memorisely's immersive bootcamps. Boasting a 100% course completion rate and alumni working for the likes of Google, Deloitte and Spotify, Memorisely's live micro classes are proving to be a game changer.
Class sizes are restricted to no more than 15 students and previous courses average a review score of 5 (out of 5) - which is pretty impressive! It also has a free Slack channel, which means you can feel part of the community even before you get started.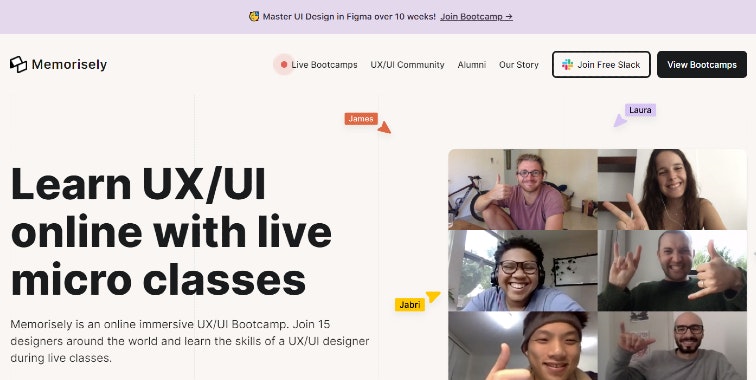 3. Unsplash
Billed as the internet's source of free to use images, Unsplash has a library of more than 2 million options that come with full commercial rights. With contributions from a global community of photographers, there are endless possibilities to choose from.
Once you land on Unsplash you'll notice a real and genuine feel to its image library - which is worlds away from the mass-produced stock options. Not only are the images free to download, they also don't require a sign up, which saves precious time.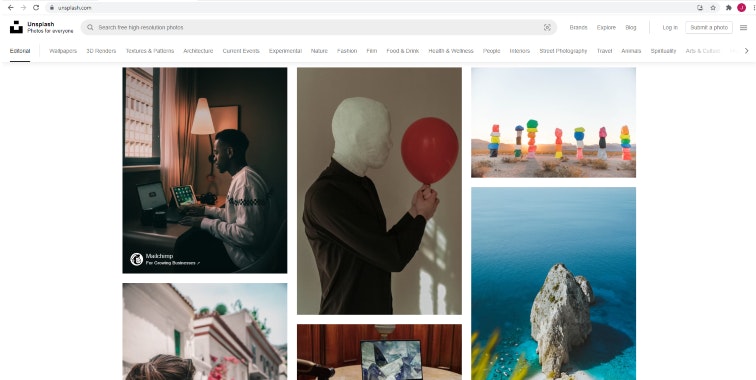 4. Cobiro
Welcome to different kind of website builder. One that's been made specifically for designers and professionals who want to design and launch the websites they actually want, without the usual friction.
Cobiro's no-code drag-and-drop website builder is packed with incredible features, such as: a built-in wireframing kit with hundreds of combinations, customizable templates and sections, Unsplash and Iconfinder integration, global hosting and much more!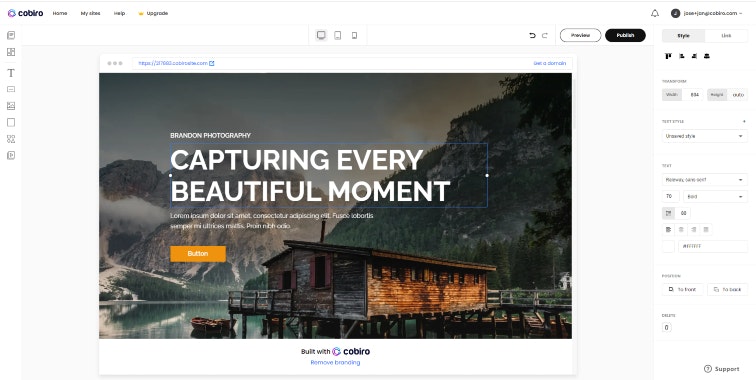 5. Adobe Color
Adobe Color is a web app where the creative community can create and share color themes and inspiration. They can then be saved to Adobe Creative Cloud Libraries and used across its desktop and mobile apps.
Browse the latest trend galleries to see what the community is making and sharpen your skills and techniques with its free tutorials. Plus, Adobe's Sensei AI technology is there to help find the perfect color combinations for your projects.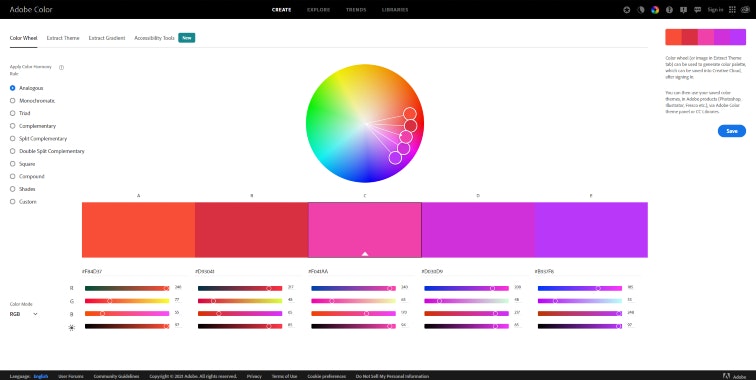 6. Behance
Behance is one of the world's largest networks for showcasing and discovering creative work. Members collate their work in the form of projects, which consist of images, videos and other content related to a particular theme or process.
Every project has a unique URL, which means it can be shared across the web and receive insights via a View and Appreciation counter. Participation is free, and there are no limits on the number of projects that can be created.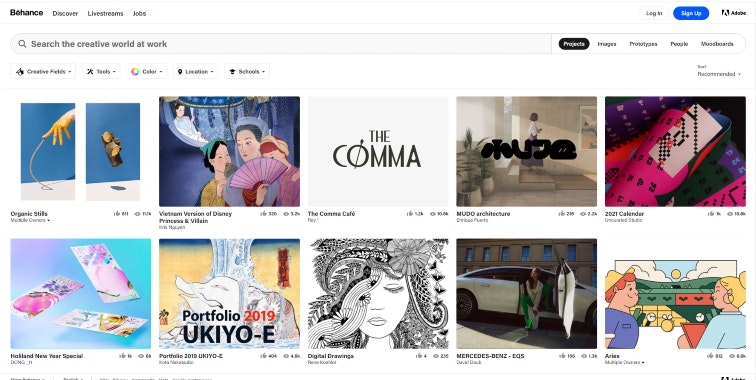 7. Dribbble
Founded in 2009, Dribbble is one of fastest-growing private companies in the US. Millions of people use it to look for design inspiration and share their design projects for feedback. It also has a job board advertising the latest freelance opportunities.
What's the difference between Dribbble and Behance, we hear you say? Dribbble is invite-only and generally more detail focused, whereas Behance is considered more accessible with more case studies. But both are great, in our opinion!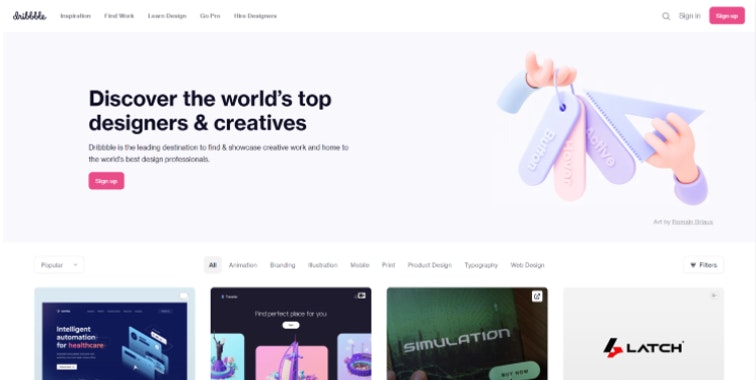 8. Digital Arts
This UK-based magazine contains a wealth of digital and creative news, advice and resources. From company case studies to updates on new products in the market, it's an excellent platform for keeping track of what's happening at the industry level.
Its tutorials are great for growing your skills across the likes of Adobe Illustrator, Photoshop, Procreate and more, plus its guides cover everything from Animation & VFX to Video post-production. Sign up to its newsletter to receive the latest news direct to your inbox.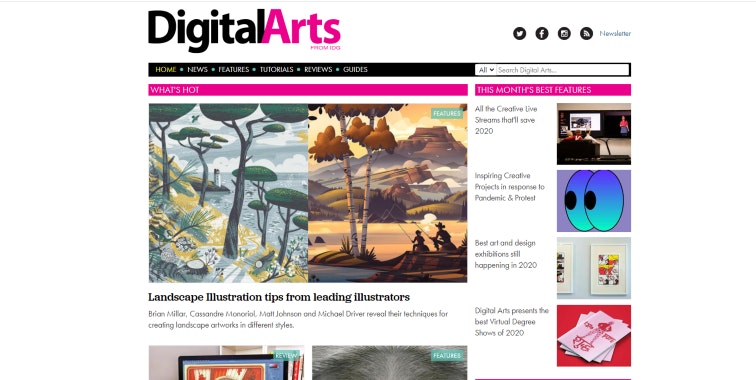 9. Niice
Niice helps bring all your projects, guidelines and libraries together in one, collaborative space. Although it's used by some of the world's largest companies, its Starter Plan is specifically tailored towards smaller brands looking to scale.
As well as collaborating with colleagues in real time, teams can connect workflows to everyday apps such as Dropbox, Slack and Figma. New updates, such as added items or images can be shared automatically, saving teams valuable time.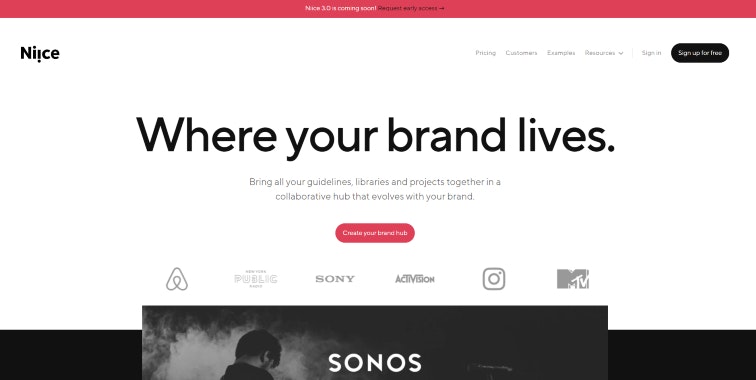 Concluding thoughts
With so many options out there for designers, adding more creativity to your work has never been easier. We hope our pick of the top resources will save you valuable time searching and enable you to work faster and more efficiently.