We're an ambitious organization that's always on the lookout for new talent. With 45 employees based across three countries, our inclusive and diverse teams embrace the opportunity to work with the latest tech - on new and challenging projects. And because we're a young company, we welcome all ideas and thrive on problem solving in innovative ways.
Achieving results for our customers
Cobiro's top-performing platform delivers all the things our customers need to build a successful online presence and grow their business. We help them to:
Build a JAMstack website from scratch with our website builder
Import their static website and host it through us with our CDN connection
Sell and manage products with our e-commerce solution
Market their offerings through Google and Facebook ads
Connect and automate tasks from 3,000+ apps using our Zapier integration
And we're constantly adding new features. For example, our Cobiro Academy is equipping the next generation of marketing advisors with best-in-class tools and knowledge, and our Cobiro Teams solution is perfect for agencies that manage multiple projects simultaneously.
Learn more about Cobiro's story.
The tools our developers use
We've assembled a comprehensive list of all of the tech we use at Cobiro. Split between Backend, Frontend, Product, and DevOps, they provide the full breadth of what we use - both internally and externally.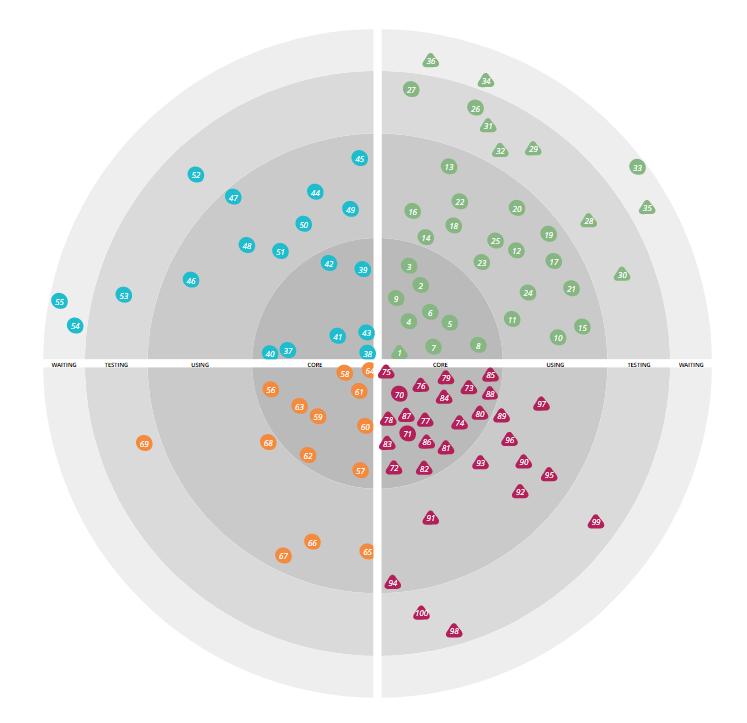 We've taken three examples from each of the four areas (Backend, Fronted, Product and DevOps) and provided a little more information on each. These form part of our 'core' work, which means they're a significant aspect of our day-to-day roles.
Backend
PHP8: The latest major update of the PHP language, which now supports union types, Just In Time compilation, Named Arguments, Expressions, Nullsafe operator and more. We use it for the rapid development of our microservices in a modular monolith manner. Thanks to the combined power of type checking and being a dynamic language, we can get both fast prototyping and a stable codebase to support our business needs.
Test Driven Development: A style of programming in which three activities - coding, testing (unit tests) and design (refactoring) are tightly knitted together. It allows us to write solutions with only the needed functionality, delivering the best quality of code that's supported with test coverage above 95%. Because of this, we can refactor our codebase easily without the threat of breaking changes.
Framework Agnostic: Autonomous and self-steering creation of components that can be used interchangeably regardless of the framework. This means that we can choose the best fitting architecture for what we want to achieve, rather than having to make it fit within an existing framework.
Frontend
Angular 11 (or the latest): Google's JavaScript (TypeScript) framework for building web applications on mobile or desktop. Version 11 features faster builds and new updates, and using its updated hot module replacement fastens our development, with better reporting and logging allowing us to spot errors before they hit production.
NX Monorepo: A package of powerful tools to help developers architect, test, and build at any scale - with seamless integration to modern technologies and libraries. It allows us to have a single monorepo for our Angular application with partial deployments of modules, shared components and easier state handling.
Pact: A testing button for code, allowing the safe confirmation that applications will work together without having to deploy to the world first. With Pactflow, we're able to create and check contracts between frontend and backend services, allowing for a consumer-driven creation of an API's definition before implementation, keeping all parties updated.
Product
Jira: The popular software tool for bug tracking, issue tracking and project management, helping teams to work and solve tasks collaboratively. It integrates with our other tools, which means we can use it to make transparent quarterly roadmaps for our teams and help to streamline our processes.
Adobe XD Design: The vector-based user experience design tool for web and mobile apps, supporting website wireframing and click-through prototypes. We use it to model new designs and updates for cobiro.com and our user platforms.
Optimizely: A digital experience optimization platform that includes AI-powered personalization and experimentation, as well as numerous testing options. With it we can test features safely, presenting them to specific users only as well as experience more efficient deployments between teams.
DevOps
AWS: Modern application tools and techniques that help to reduce cycle times in code changes to feature release, delivering better results quicker. If we need a prototype or production-ready solution, we can choose an existing one from AWS or build our own databricks.
K8: The open source container platform that automates the manual processes involved in deploying, managing and scaling applications. We use it to fuel our microservices to speak to one another and use scaling mechanisms to respond to load changes.
CircleCI: A continuous integration and delivery platform that allows teams to build and deploy software - with code changes validated in real time. This helps us develop, check and test code faster due to parallel builds that are independent between teams.
What's it like to work at Cobiro?
From catered lunches and extra vacation days to pension and healthcare packages, Cobiro provides the foundations for a rewarding and successful career. We're a team of more than 20 nationalities, which makes our culture as diverse as the roles that exist within it.
We're headquartered in Copenhagen, with offices in Warsaw and San Francisco. We have a mix of teams across all three, with many of our developers based in the Warsaw office.
Find out more about working at Cobiro and see our latest vacancies.