Cobiro is a central platform that combines online presence with digital advertising. It's your all-round hub when you're looking to take your business online and reach new customers. One of the advertising options on our platform is Google Ads. Because there are billions of Google searches online, you want to make sure you show up when people are looking for solutions or products similar to yours. There's no doubt that Google Ads are a must for growing your business online, but why exactly? We'll take you through the six top benefits of advertising with Google.
What are Google Ads?
When we talk about Google Ads, we mean Google Search Ads and Google Shopping Ads. Both can be very relevant when you want to increase traffic and drive sales.
As the name implies, these ads show up in Google searches. You create search ads to reach customers that are searching on Google for what you offer. The way it works is that you bid on keywords relevant to your business. Your ads with said keywords are then shown as a top result to users who are actively searching for the keywords you bid on. For example, if you sell handmade ceramics in Dallas, you could bid to have your ad show up when a user types in "ceramics Dallas."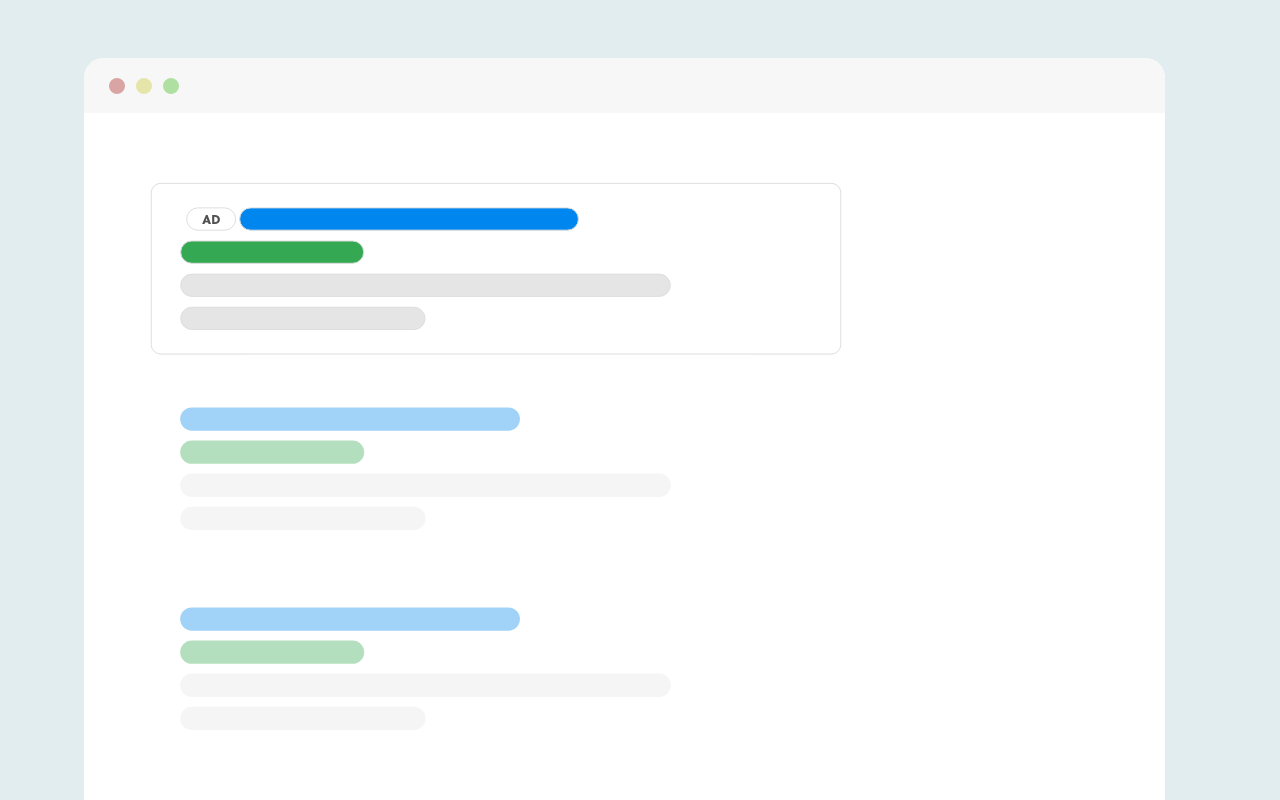 Search Ads show up on Google as text
Shopping Ads are for those with an online store. These ads are typically placed above or beside search ads and show users in a visually appealing manner what they're searching for. Shopping Ads include product information such as image, price, and information about your store. The ad information is synced with your online store so people always get updated ads.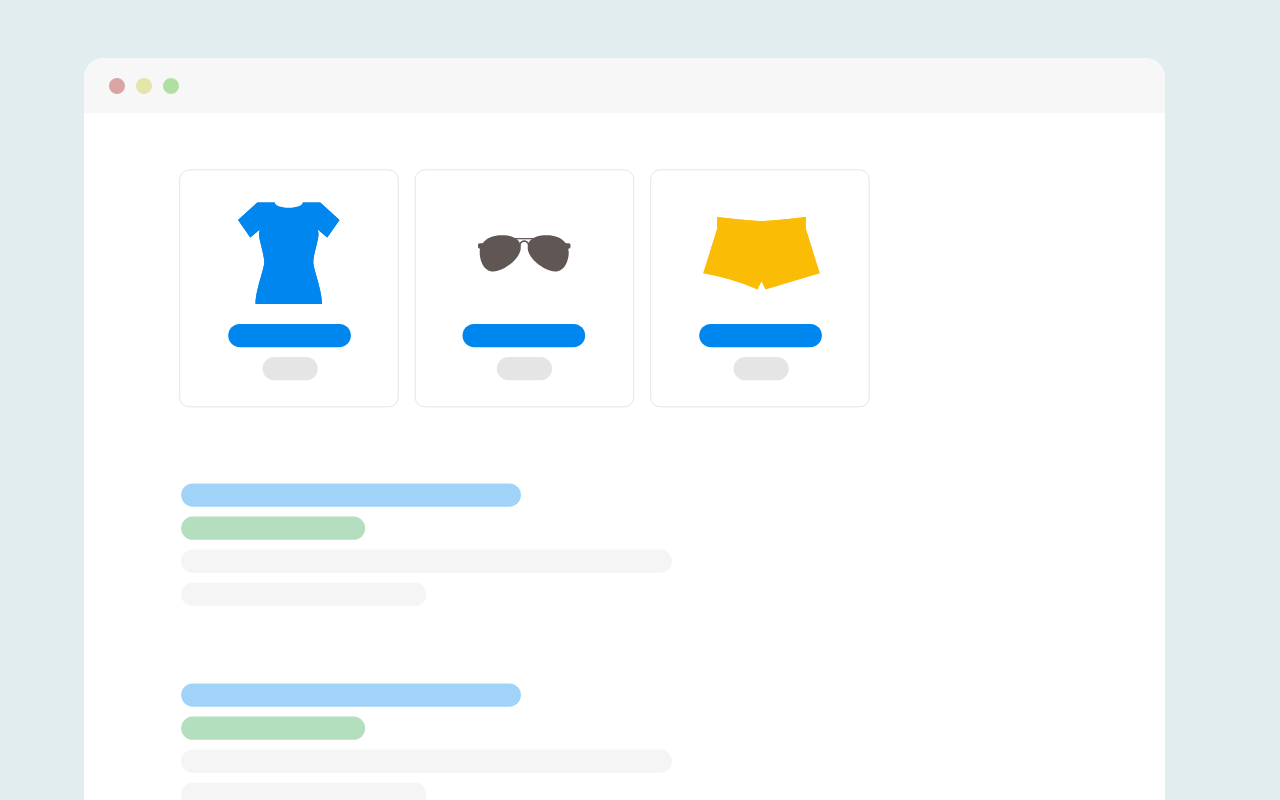 Shopping Ads show up on Google with product images
Benefit no. 1: Be on top of search results
When you pay for ads, you pay for the top spot in Google's search results. Because Google advertising shows up at the top of search results, they're a lot more noticeable (especially Shopping Ads with images), thus making them more likely to get clicks and your page more likely to get traffic.
Benefit no. 2: Google's reach can be yours
There are a staggering 5.6 billion searches on Google every day! By being the preferred search engine, Google reaches the majority of all internet users worldwide - and that reach can be yours too with Google Ads. That's what you get when you buy Search and Shopping Ads for the search engine results page.
Benefit no. 3: No clicks, no cost
Advertising usually costs an arm and a leg to get set up with. Not Google Ads, though. Google uses a pay-per-click (PPC) model, which means you only pay for the ad when a user clicks on it. Now, your ads might create awareness just by users seeing them, but it's the clicks that get you traffic to your website and ultimately the conversions you're looking for. PPC is just that. We like to call it: no click, no cost! If your ads aren't performing well and no one is clicking on them, then no harm done and no money wasted.
Benefit no. 4: Total budget control
Especially for smaller business owners, spending a lot of money on advertising is a no-go. Luckily with Google Ads, you decide the limitations of your budget. If you go over your maximum limit, Google just stops showing your ads. That doesn't mean your ads won't perform - even a small budget can get you very far!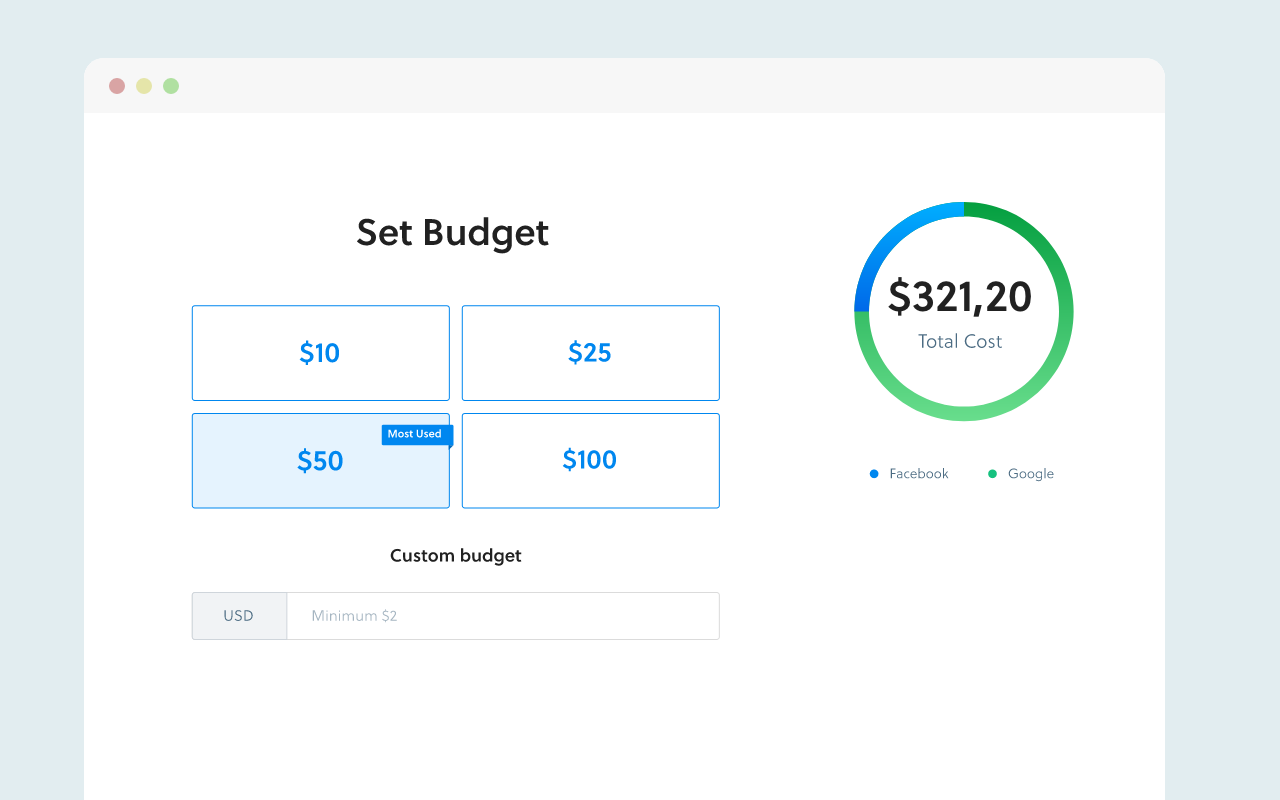 Set a budget and stay in control
Benefit no. 5: Local and demographic targeting
So, there are 5.6 billion Google searches every day, right? That's a lot of people searching for stuff that has no relevance to you or your product. Google Ads fortunately has a couple of different types of targeting that will help you reach the people that are most likely to be interested in your business. Targeting your ads specifically to reach users relevant to your product and services gets you better results, more clicks, and in the end the right visitors landing on your site.
Local targeting and demographic targeting are two interesting ways to narrow down your audience on Google. Local targeting is based on people's location - where your potential customers are in the world. Local, smaller businesses would prefer to target users who are close to their shop, for example. Demographic targeting is based on age, gender, parental status, and household income. With demographic targeting, you tap into the vast data Google has on your audience and use it to find the best leads for you. There are also more advanced ways to target people, but we won't get into that in this article.
Benefit no. 6: Improve your ads with analytics
Advertising with Google is quite simple and can get you great results pretty fast, but your ads won't be perfect in the first try. Google Ads provide you with useful analytics in the form of insights into your ads' performance over time and recommendations on how to improve them. These insights get better the longer your campaigns are running, which will make you more knowledgable about what works and how to tweak your ads to perform the best. If you dig into those recommendations and make the right improvements, you can be sure to see a higher return on investment.
Conclusion
Increasing traffic to your site is a marathon, not a sprint. You need to make sure to finetune SEO all the time, constantly come up with new and better content and keep your site fast and easy to navigate. It takes time to reap the rewards of your hard labor. Luckily, there's a way to get some results fast and drive more sales: Google Ads.
Google Ads are easy to get started with and cheap too, so there's no excuse not to try it out. Moreover, you can be sure to see results very fast, thus increasing traffic to your website or online store.
Excited to get more traffic to your site? Get started with Google Ads through Cobiro today!